I have a personal invitation and question for you.

I'LL START WITH MY QUESTION FIRST…
Q. How vulnerable are you with your online tribe? While growing your online community, do you always appear to be perfectly put together… or do you let your hair down and allow yourself to be vulnerable?
Allowing yourself to be authentically seen and vulnerable builds trust with your tribe.
It builds rapport and soulful connections.
You simply cannot amplify your message, transform lives, and grow your heart-centered businesses without being vulnerable.
SO HERE'S MY INVITATION…
First, I want to invite you to practice being vulnerable by jumping over to my BRAND NEW Ignite Your Online Community for heart-centered women entrepreneurs and share one example of how you show your vulnerable side to your online tribe.
Second, I want to personally invite you join me and bestselling publisher Linda Joy for a series of sacred conversations with women who have said YES to being vulnerable. These women (including ME) have stepped through their fears about speaking their truth, gone deep into their souls, and showed up as their radiant authentic selves to share their transformational journey as healing tools for you.
I felt so vulnerable when I recorded my conversation with Linda. Showing up with no masks on, left me feeling naked. But feeling naked is worth it, if even one woman listens to my conversation with Linda and is empowered by it.
My conversation with Linda is part of the Choosing Happiness Crusade and Video Series that features 30 intimate soul-inspiring video conversations… and was created to inspire women to choose happiness… no matter what.

Unlike other online "interview' style events, Linda's heart-centered authentic style has no scripts and nothing to buy … it's just two women in sacred conversation about life, happiness, and the wisdom and lessons learned along the way.
So pour a glass of wine or a cup of tea and join me for this FREE inspirational series.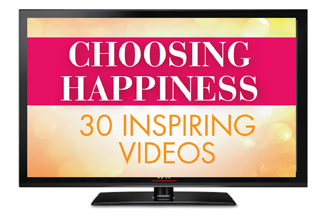 When you sign up you will also receive access to 42 transformational gifts from all of the speakers as well as our Sacred Sponsors.
May you always choosing happiness – even in the midst of life's messiness.