Still look pregnant? Still feel pregnant? This post is for you!

Are you struggling with still looking pregnant?
Tired of people still asking you how the baby is kicking or when you are due?
You are not alone.
Share your story so other moms know that they are not alone either.
To share your story on StillLookPregnant.com, complete this form.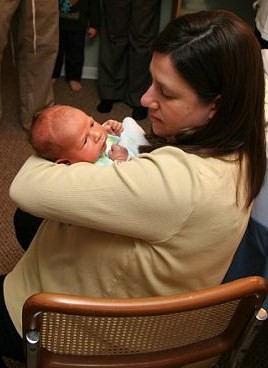 It's been 2 years, 5 months, 24 days, 10 hours, and 75 pounds since I delivered my second son. He was healthy and beautiful and ounces away from weighing ten pounds.
And for the last 2 years, 5 months, 24 days, and 10 hours I have continuously been harassed by strangers with questions and comments insinuating that I am still pregnant. To give you some insight, I'm going to start this week with a top ten list.
I'll continue my belly journey this week as I celebrate reaching my Weight Watchers goal weight and my fears of what's next (the need to maintain). I'll also be exploring the realities moms have to face with their post pregnancy bodies. One of my realities is that I still look pregnant after 2+ years and after hitting my goal weight.
Top Ten Signs I May Always Look Pregnant
(To be clear, I am and was NOT pregnant during the following circumstances)
10. During an aerobics class, the instructor walked up to me in the middle of class and asked me (with her loud microphone) if I was expecting my first child.
9. A homeless person on the street asked me how the baby was kicking.
8. When I was assigned an exit row seat on an airplane I was told by a flight attendant "You obviously cannot sit in an exit row because you are pregnant."
7. The dental hygienists assumed I couldn't get teeth x-rays because she thought I was pregnant.
6. During a job interview the woman asked me when my baby was due (yes, this is illegal).
5. The first day of my art class, the instructor asked me when I was expecting.
4.  While watching my son during his swimming class, another mother asked me when I was expecting.
Note: People never speak to me again once they have implied that I'm pregnant. They stop making eye contact! It's like I'm stuck in a Seinfeld episode.
3. The nurse at the doctor's office (just last week) asked me if I was pregnant. At first I thought it was a standard question until she apologized and was embarrassed after I told her I was not pregnant.
2. Walking with my kids at the airport, someone stopped me and asked "How do you do it with two kids and one in the oven?"
1. During a family photo shoot, the professional photographer asked me to suck my stomach in before he snapped a picture. His wife quickly replied "Dear, you can't suck in a baby".
This is your moment!
Am I the only one who gets "accused" of being pregnant? Have you (or your wife) ever experienced this awkward situation? Why don't these people just think I have a fat stomach and give me a break!?!

Share Your Story
You are not alone. Share your story on my new blog StillLookPregnant.com so other moms know that they are not alone either. To share your story on StillLookPregnant.com, complete this form.