This post was originally published on futurefortified.org.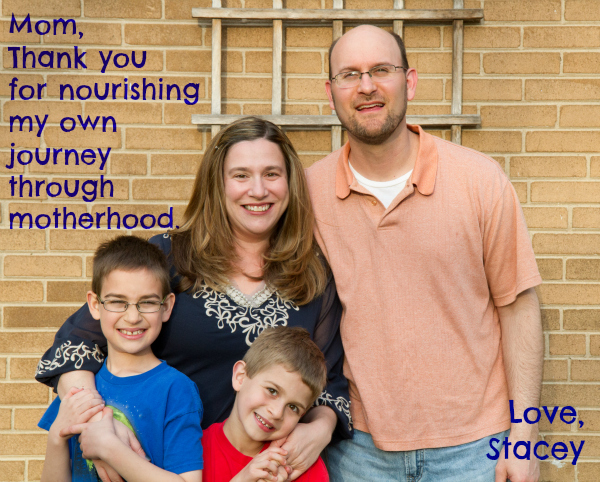 My Mom. Wow, do I love her.
She is who I need during those crazy hectic moments of life when I just want to shout "I Want My Mommy".
She's my mom, my inner child's mommy, my soul sister, and my best friend.
She is my rock. My safe place to fall.
She doesn't always understand my choices or my way of thinking, but she is always there – with every cell of her being – to support my decisions and nourish my life.
She's my mom and, wow, do I love her.
Even though my mom lives 300 miles from me, she nourishes my soul everyday over the phone (or over Skype) with her words, her spirit, and her positive outlook on life.
Since I became a mom almost 10 years ago, my mom has become a daily lifeline. It all started the day my first son was born. She drove 300 miles to take care of me – to nourish me. While I was trying to figure out motherhood, she was there shopping for me, cooking for me, washing for me, and cleaning for me. She let me BE with my baby. She let me sleep. She took care of me, so I could take care of my son.
I can still remember her driving away from my house that cold January morning to drive 300 miles back to Michigan. I wasn't so sure I was going to do this mommy gig without her near by.
It was in that moment that I realized there's no such thing as far away. Although I longed to have my mom close by, the physical distance between us brought us closer. Once I became a mom, my mom and I started talking every single day. She was there to listen and to remind me at every turn that "this too shall pass". She was there to nourish my soul at all the amusing yet stressful moments I was experiencing as a mom.
My mom's nourishing support has only grown stronger of the past ten years. Our daily calls somehow evolved into multiple phone conversations a day. A sense of peace rushes over me when my mobile phone belts out her special ring tone. It's in those moments when I know I'm never alone. It's in those moments I know my mom – my mommy – always has my back. It's in those moments, I feel so grateful to have a mom that nourishes my life, my happiness, and my own personal journey through motherhood.