This is a sponsored post about the Merck Manual Consumer App. All thoughts and opinions are my own.


I had a bit of a Foosball table fiasco in December.
I thought a Foosball table would be a great addition to our basement now that my boys are getting older. And I thought if I could find a free table someone was ready to get rid of… even better.
I found someone nearby that was ready and willing to give us their Foosball table. So silly me, my husband and I innocently went over there to pick it up. What we discovered, however, was that the table wouldn't fit through the door of the house without us first taking off the legs.
Long story short, I found myself holding one side of this very heavy Foosball table while someone removed the legs. And as I was holding the table, I could literally feel pain emanating from my lower back.
And by the time all the legs were off the table, I could barely walk. The damage was done. By the next morning, I was in excruciating pain. I could barely walk and couldn't get up from a sitting position without assistance.
Merck Manual Consumer App to the Rescue
Fortunately, just around that time, I was asked to review the free Merck Manual Consumer App, which provided me with easy to read and simple to understand information about my symptoms and pain.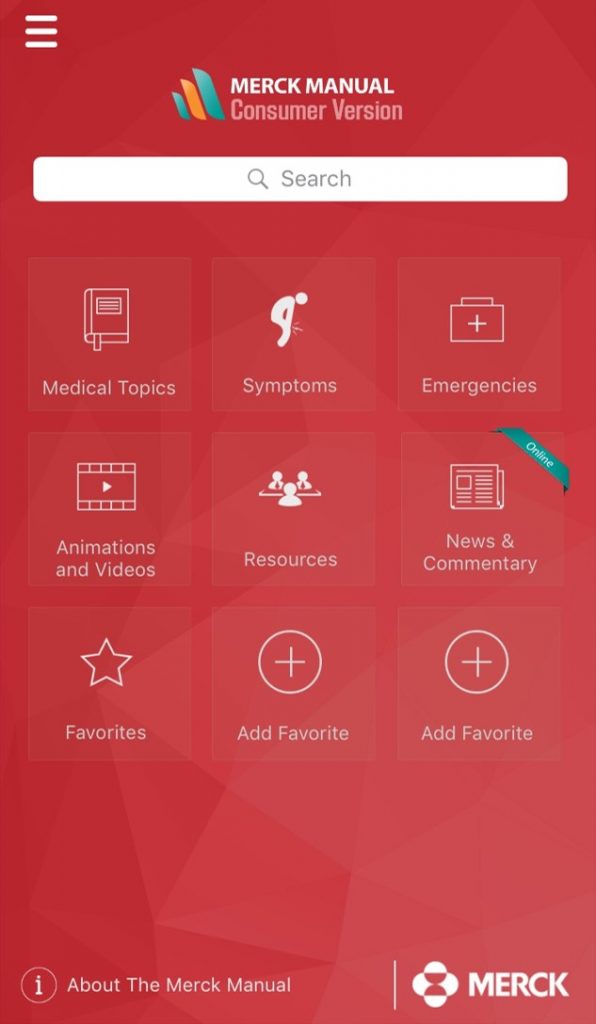 By searching "back pain" on the Merck Manual Consumer App, I was able to review detailed information about different types of back pain, including suggested treatment options for the type of pain I was having in my back.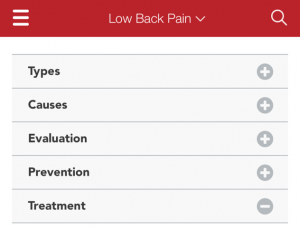 For example, I learned that cold is usually preferred over heat during the first 2 days after an injury. This app also suggested that massages and spinal manipulation, done by a chiropractor, may help if the pain was due to spasms, strains or sprains. The Merck Manual Consumer App also stated that most back pain heals within 2 and 14 days… and that regardless of treatment, 80-90% of back pain heals within 6 weeks.
Although I was in extreme pain, I felt optimistic with the statistics that this would not result in chronic back pain. I took the Merck Manual Consumer App's "advice" by applying ice and having two spinal manipulation appointments with my chiropractor. And fortunately, after 2 weeks, my back was 95% back to normal.
More About The
Merck

Manual Mobile App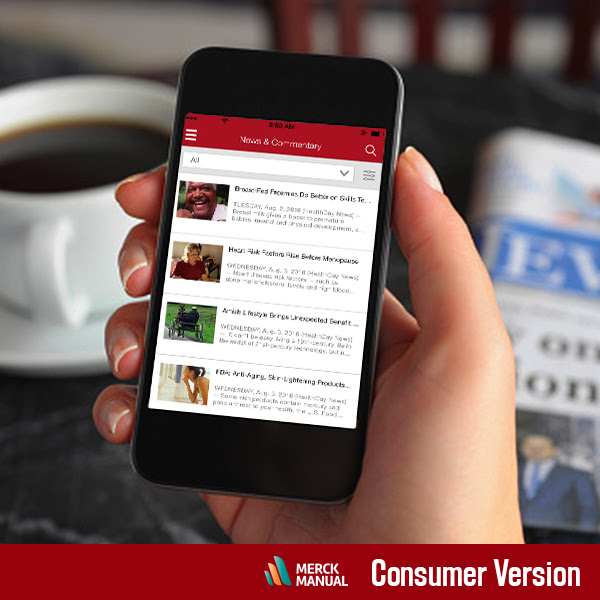 The Merck Manuals are one of the most world's most trusted resources for medical information and offer accurate and accessible medical information to both professionals and the public.
The Merck Manual Consumer App provides clear, practical explanations for thousands of medical conditions, "giving consumers access to credible, easy to understand health information that's been written, vetted and updated by more than 350 medical professionals. Whether traveling or in your own community, you and your family are guaranteed to find current medical information with this updated and upgraded app — even when you don't have internet access".
This app is free of charge, with no advertisements, and they do not ask you to register or enter any personal information.
To try it yourself, you can get the app in the iTunes app store or download it on Google Play.