Thank you to Houlihan's Restaurant for sponsoring today's post!
Disclaimer:
Compensation was provided by Houlihan's via MomTrends.  The opinions expressed herein are those of the author and are not indicative of the opinions of Houlihan's or MomTrends.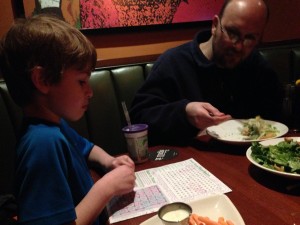 My family was invited to experience dinner at our local Houlihan's. I love when blogging opportunities take me to new places so close to home (because prior to this opportunity, I had never heard of Houlihan's).
My boys thought it would be fun to create a top ten list… so here are the top ten things we liked about Houlihan's:
10. Fancy but casual. If you eat at fancy restaurants, Houlihan's may not be fancy for you. But if you're used to casual dining with your little ones, the atmosphere is much better than your typical family restaurant.
9. The lighting. We loved the cozy dim lights.
8.  New lighter fare menu options. Each item on this limited time special menu is less than 590 calories.

7. The french onion soup.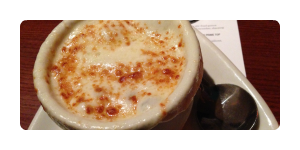 6. Our waiters. They went above and beyond with their friendliness and service.
5. The salads.

4. Activities to entertain the kids.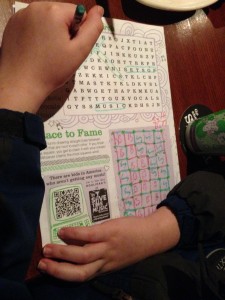 3. Fish Tacos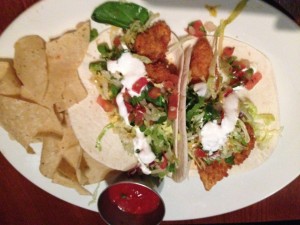 2. Being together as a family.
1. And the best thing about Houlihan's (according to my boys) was the chicken!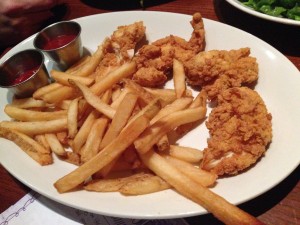 About Houlihan's
Established in 1972, Houlihan's is a progressive concept that bridges the gap between fine dining and what people have come to expect from casual dining, priding itself on style and quality. Houlihan's offers guests a design-forward atmosphere featuring a curated indie music soundtrack, an eclectic menu designed for modern lifestyles, and an energetic scene.  Houlihan's crafts dishes made from scratch with assertive flavors and offers creative, diverse cocktails and wine selections, with many of its locations garnering 'best happy hour' awards from local media outlets. Currently, 83 Houlihan's restaurants operate throughout the country, 52 of which are franchised. Houlihan's is owned by Houlihan's Restaurants, Inc. of Leawood, Kansas, which developed and owns several restaurant concepts comprising of approximately 100 locations coast-to-coast, including Devon Seafood Grill and J. Gilbert's Wood-Fired Steaks.
For more information about Houlihan's, visit www.houlihans.com or find them on Facebook. If you visit Houlihan's send them a tweet at @houlihans using the hashtag #SoEatingThis.
$50 Houlihan's Gift Card Giveaway
One lucky winner will win a $50 gift card to Houlihan's! Enter to win below…