I am yet again amazed at all that I'm learning from being part of the Global Team of 200. Today, I'm learning about Maternity Worldwide and their work in developing countries to help women and girls access the high quality maternal health care they need to be able to give birth safely.

During the month of December, they are selling unique and meaning holiday gifts you can give to loved ones that will help save the life of a mother in a developing country.
Sponsor a Safe Birth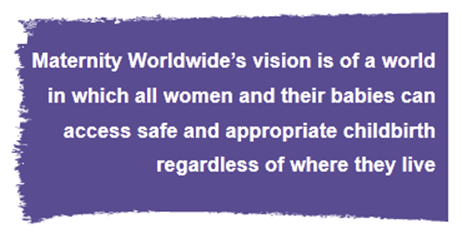 Maternity Worldwide is now offering Safe Birth Certificates that you can purchase this holiday season. It costs $24 to sponsor a safe birth or $81 to sponsor an emergency delivery. The prices on Maternity Worldwide's website are in pounds, but if you're paying with U.S. Dollars, it will automatically change to dollars upon checkout.
"A vital part of our work is raising the skills of local doctors and midwives so that they can help women and girls in their communities to give birth safely."
~ Maternity Worldwide
Every two minutes another mother dies in childbirth. You can make a difference.
Disclosure: This is not a sponsored post. This post is a part of my work with the Global Team of 200 a highly specialized group of members of Mom Bloggers for Social Good that concentrates on issues involving women and girls, children, world hunger and maternal health. All pictures and information used with permission from Maternity Worldwide.