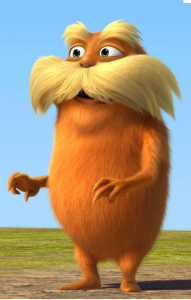 Being crafty and being a foodie are not my strengths. So as an evolving mom, I'm making an effort to make fun snacks and crafts with my boys.
Although these snacks are filled with sugar (and food dye) I couldn't resist exploring Pinterest and finding super fun food crafts for The Lorax and Dr. Seuss' birthday.
Pinterest is the best place ever to find awesome crafts and food ideas. Just saying.
Rock UR Party, inspired us to make Dr. Seuss' Truffula Trees. Her's look like Martha Stewarts. Mine look like an evolving mom's…and I'm totally okay with that.

The Girl Who Ate Everything inspired us to make Dr. Seuss' Green Eggs. I burnt the white chocolate chips the first time I melted them in the microwave, but I have to say, I was impressed with how they turned out (my kids were impressed too).

Fancy Frugal Life inspired us to make Dr. Seuss' Cat in the Hat snacks. She used red gummy life savers, which I couldn't find, so we used red licorice string. I still can't figure out how her she made the white icing look so good. My white ice is a bit of a delicious debacle.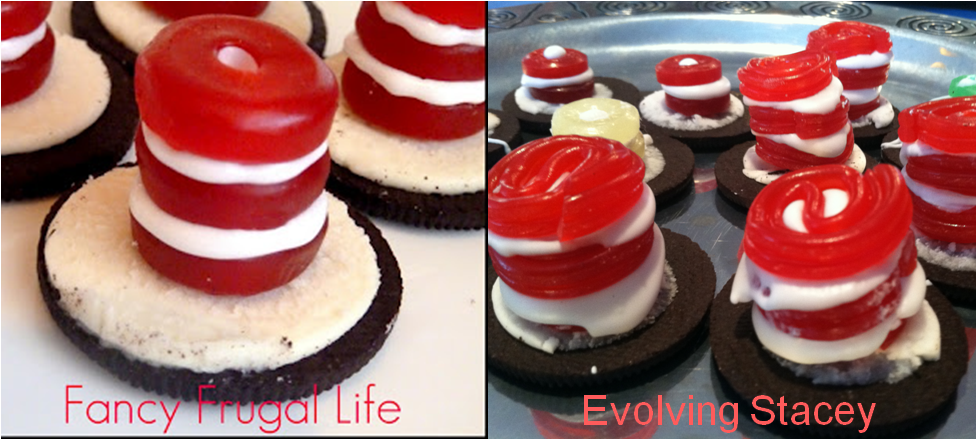 Thank you The Girl Who Ate Everything, Fancy Frugal Life, and Rock UR Party, for blogging, for your creativity, and for giving me easy to follow projects I can do with my boys.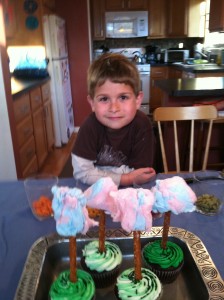 Truffula Trees
Cup cakes (I bought already made St. Patrick's Day cupcakes, but you can make them for scratch and add green frosting)
Pretzel sticks
Cotton candy
Directions (from Rock UR Party)
1. Buy or bake cupcakes.
2. Place tufts of cotton candy on top of pretzel sticks using a bit of extra frosting to help stick the two together.
3. Stick the pretzel rod carefully into the center of the green frosted cupcake.

Green Eggs
White Chocolate Chips
Green M&Ms
Directions
1. Melt white chocolate chips.
2. Make white chocolate circles on a cookie sheet (you can use a spoon or place melted chocolate into a ziploc bag, cut the corner of the bag with scissors, and squeeze chocolate onto cookie sheet.
3. Place one green m&m onto white chocolate.
4. Let the white chocolate harden before removing from cookie sheet.
Cat In The Hat Snacks
Oreos
Red gummy life savers, regular live savers, or red string licorice
White icing