I've been getting really interested lately in learning more about and using essential oils. This first started when Lisa Noel, from Oh Boy Oh Boy Oh Boy, introduced me to DoTERRA Essential Oils… specifically the Balance – Grounding Blend for my 8 year old son.
DoTerra Balance Grounding Blend
DoTERRA's Balance Grounding Blend has a warm, woody aroma that creates a sense of calmness and well-being.
I apply Balance essential oils on the bottom of my son's feet every night. It helps him unwind from his active day and helps regular his energy throughout the following day. Just the smell of it now takes him one notch closer to being and feeling mellow.
This blend includes: Spruce, Ho Wood, Frankincense, Blue Tansy, and Blue Chamomile essential oils.
DoTERRA's Balance Grounding Blend promotes whole body relaxation and creates feelings of tranquility and balance. Click here to learn more about DoTERRA's Balance Grounding Blend.
My absolute favorite essential oil blend for myself is the Priestess Anointing Oil from Emerald Temple.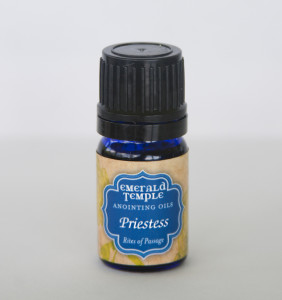 One whiff of this oil immediately takes me to my happy place.
This blend includes: Blue Lotus, Frankincense, Bulgarian Rose, Sandalwood, Spikenard, Vetiver, Dragons Blood, Lavender, Cedarwood, Vanilla, Bay Laurel, Myrrh, Neroli.
I'll share more about this Priestess Anointing Oil in my next essential oil blog post.